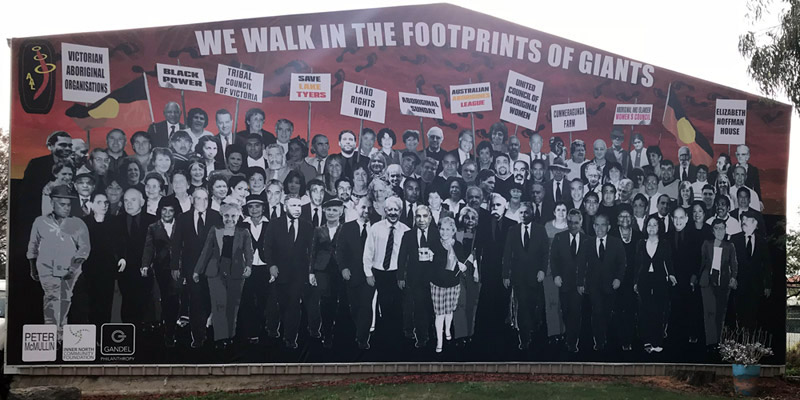 This mural was funded by Gandel Philanthrop, Peter McMullin and the Inner Northern Community Foundation.
The mural depicts all the Board members of the AAL for 60 years from 1957-2017. These are leaders who contributed to the AAL and are marching together for a common cause, rights for Aboriginal people.
This mural brings together leaders from different times over those 60 years.
The front row has the leaders from the 1950's and 1960's with a couple of leaders from the present.
Each of the people featured on this mural has contributed the longevity of the AAL to ensure the most vulnerable members of our community have been looked after.
There have been many marches from 1957 until today. The marches have been Land Rights marches, the March to save Lake Tyers, The march to save the Sherbourne Forest.
The mural also features many placards that in themselves tell a story. The Australian Aborigines League was the forerunner to the AAL. It was established in Melbourne in 1934 by William Cooper and others, including Margaret Tucker, Eric Onus, Anna and Caleb Morgan, and Shadrach James, and its members held the first gathering of Aboriginal people in 1938 to declare a 'Day of Mourning'.
The placard on Black Power depicts the movement of the AAL from having non-Aboriginal people on the Board to an all Aboriginal Board; the Tribal Council of Victoria is when the first tribal council was established; the Victorian Aboriginal organisations came out of the 'mother' organisation, the AAL in the 1970's; Aboriginal Sunday was the forerunner for NAIDOC and it started in from the Day of Mourning in 1938 Australia Day, 1938. From 1940 until 1955, the Day of Mourning was held annually on the Sunday before Australia Day and was known as Aborigines Day. In 1955 Aborigines Day was shifted to the first Sunday in July after it was decided the day should become not simply a protest day but also a celebration of Aboriginal culture; in 1972, a National Council of Aboriginal and Islander Women was formed with Aunty Geraldine Briggs the first president and her daughter, Margaret Briggs the general secretary. Aunty Joyce Johnson was a founding member and secretary of the United Council of Aboriginal Women (UCAW) established in 1965; The Save the Lake Tyers campaign was led by the AAL in May 1963 in collaboration with the Australian Aborigines' League and the Council for Aboriginal Rights to support residents who wished to save Lake Tyers; the Cummeragunga farm was handed back to the local residents after lobbying and negotiation by the AAL and a couple of the residents, Kevin Atkinson and Colin Walker; and, Elizabeth Hoffmann House was funded through the efforts of Elizabeth Hoffmann as director of the AAL.